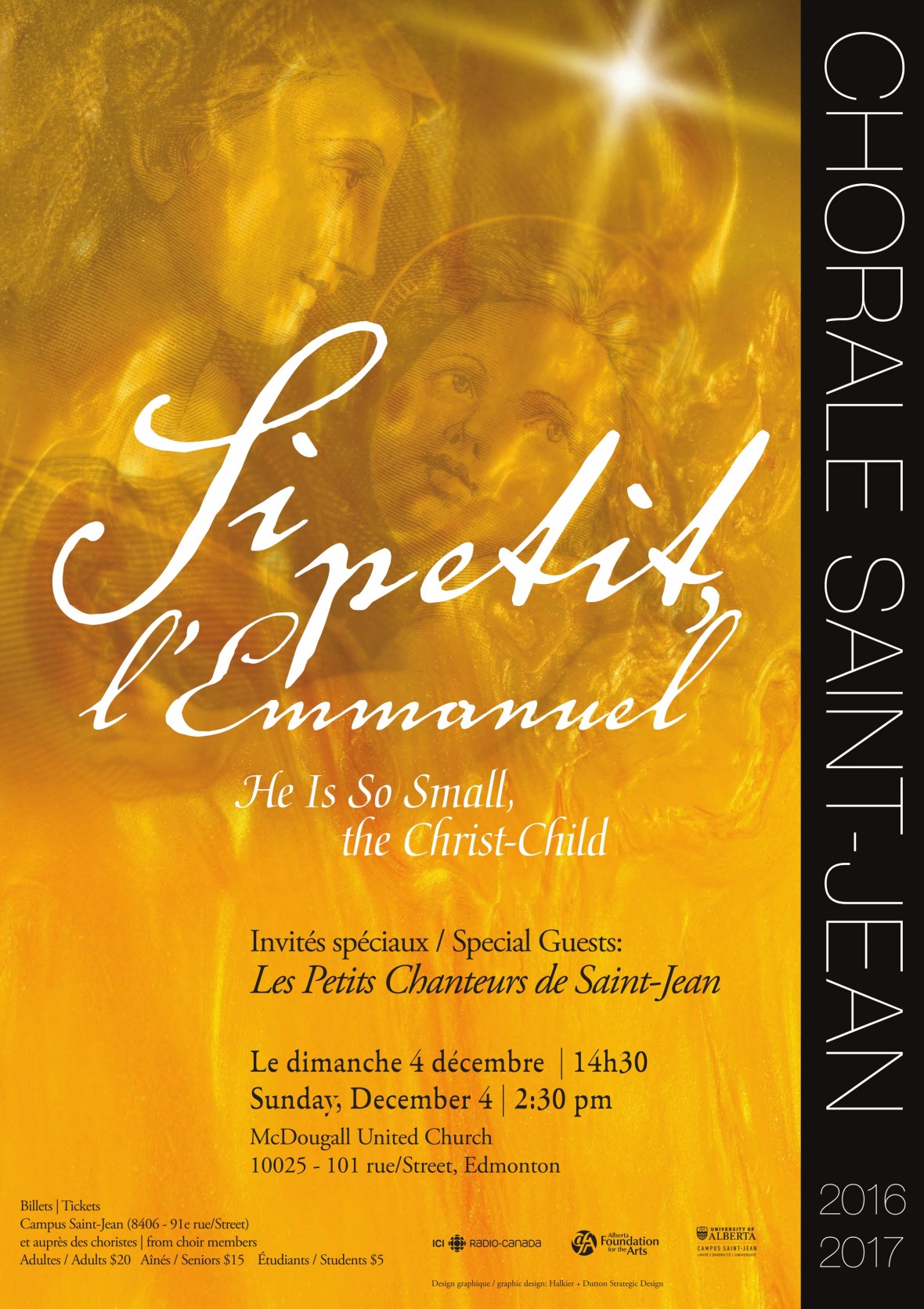 Concert de Noël 2016
Si petit, l'Emmanuel
Joignez-vous à la Chorale Saint-Jean pour célébrer la saison d'espoir et de renouveau qu'est Noël! Vous aurez entre autres l'occasion d'entendre en grande première les Petits Chanteurs de Saint-Jean, le tout-nouveau chœur d'enfants sous l'égide de la CSJ.…. Venez entendre leurs voix se mêler pour quelques nouveaux chants ainsi que des classiques connus. Le programme que vous propose la Chorale Saint-Jean cette année sera le coup d'envoi joyeux de votre saison de Noël!
Dimanche 4 décembre à 14h30 à l'église McDougall United (10025 – 101 rue, Edmonton).
Billets disponibles au Campus Saint-Jean (8406 – 91 rue),  auprès des choristes ou à la porte: Adultes 20$, Ainés 15$, Étudiants 5$
~ He Is So Small, the Christ-Child ~
Join Chorale Saint-Jean as they celebrate the season of hope and renewal that is Christmas. The concert will feature the premiere of Les Petits Chanteurs de Saint-Jean, Chorale Saint-Jean's brand new children's choir.  The choirs will also unite to sing some new classics as well as old favourites, setting the tone for a phenomenal Christmas season!
Sunday, December 4th, 2:30pm at McDougall United Church (10025 – 101 Street, Edmonton).  Tickets are available at Campus Saint-Jean (8406 – 91 Street), from choir members and at the door: Adults $20, Seniors $15, Students $5