Welcome to Chorale Saint-Jean
No front page content has been created yet.

Faire un don / Donate now
Dans la section "Choisissez le fonds que vous désirez soutenir",
sélectionnez "Autre", puis choisissez La Chorale Saint-Jean
---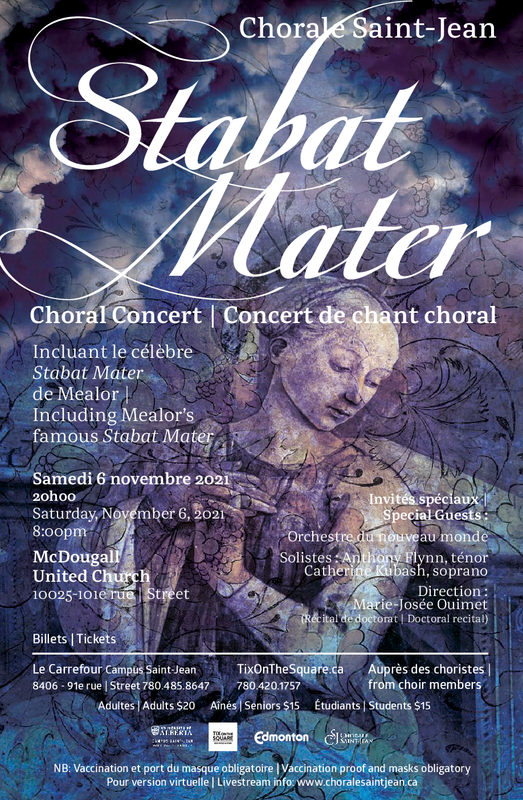 La Chorale Saint-Jean est de retour!
Après presque deux ans de silence pandémique, la Chorale Saint-Jean est ravie de reprendre la scène.
Venez célébrer avec elle (en personne ou par retransmission en directe) la magie du chant choral le
samedi 6 novembre à 20h00 à McDougall United Church (10025 – 101 e rue) au Centre-ville d'Edmonton.
Au programme vous entendrez l'œuvre maîtresse de quatre mouvements Stabat Mater de Paul Mealor,
qui raconte à la fois le tourment et la tendresse de Marie au pied de la croix de son fils, Jésus; sans
doute une des œuvres les plus émouvantes jamais chantée par le chœur. Le reste du programme
comprendra les sublimes Trois nocturnes de Daniel Elder, des pièces de la Renaissance (Victoria) et de
l'Impressionnisme français (Debussy, Lili Boulanger) en plus des Trois Cloches (G-V. Gilles/E. Piaf). Invités
spéciaux incluent Anthony Flynn et Catherine Kubash. Le concert sera dirigé par Marie-Josée Ouimet
pour satisfaire partiellement aux exigences de son diplôme de doctorat en direction chorale.
Chorale Saint-Jean : Stabat Mater
Samedi 6 novembre, 20h00
McDougall United Church
10025 – 101 e rue, Edmonton
Billets : 20$/15$ Tix on the Square, Le Carrefour et auprès des choristes
Restrictions Exemption Program sera en vigueur pour assistance en personne
Inscription pour retransmission en direct/Livestream sign-up : https://www.eventbrite.ca/e/201735354877
Chorale Saint-Jean is back!
After almost two years of pandemic silence, Chorale Saint-Jean is elated to be taking to the stage once
again. Join us (in person or via livestream) to celebrate the magic of choral singing on Saturday,
November 6 at 8:00 pm at McDougall United Church in downtown Edmonton (10025 - 101 St.). The
program will feature Paul Mealor's four-movement masterpiece Stabat Mater, which recounts both the
torment and the tenderness of Mary at the foot of the cross of her son, Jesus; arguably one of the most
moving works ever sung by the choir. The remainder of the program will feature Daniel Elder's sublime
Three Nocturnes, works of the Renaissance (Victoria) and French Impressionism (Debussy, Lili
Boulanger), and will close out with The Jimmy Brown Song (G-V. Gilles/E. Piaf). Special guests include
Anthony Flynn and Catherine Kubash. The concert will be conducted by Marie-Josée Ouimet in partial
fulfillment of the requirements for the doctoral degree in choral conducting.
Chorale Saint-Jean : Stabat Mater
Saturday, November 6th, 8 :00pm
McDougall United Church
10025 – 101 St, Edmonton
Tickets : $20/$15 Tix on the Square, Le Carrefour and from choristers
Restrictions Exemption Program will be in effect for those attending in person
To register for the Livestream, visit https://www.eventbrite.ca/e/201735354877
---
Le chant choral en confinement: La Chorale Saint-Jean chante Parlez-moi, décembre 2020.
---
Click here for English Version
Créée en 1937, la Chorale Saint-Jean du Campus Saint-Jean de l'Université de l'Alberta est l'une des chorales francophones les plus grandes et actives dans l'Ouest canadien. Elle est une force de ralliement caractérisée par son excellence musicale et par la nature transformative de son chant. Composée de membres de la communauté estudiantine et de la communauté francophone de la grande région d'Edmonton, elle est dédiée à l'apprentissage du chant, à la pédagogie musicale et au développement de la langue et de la culture francophones. Elle commande régulièrement de nouvelles œuvres musicales de compositeurs canadiens, entreprend des tournées nationales et internationales et a sept disques à son actif. L'ensemble est dirigé par Laurier Fagnan depuis 1995.
COVID-19 – Notre réalité
En mars 2020, les voix se sont tues partout dans le monde. La COVID-19 s'est invitée chez nous et est venue bouleverser nos vies. Le concert de printemps prévu pour le 5 avril a dû être annulé et les activités interrompues. Mais le chant choral n'est pas mort! Nous comptons revenir aussitôt que possible dans le respect des consignes imposées par le gouvernement. Qui sait quelle forme prendra ce retour? Mais comme le dit notre devise, Notre chœur, votre voix, nous chanterons à nouveau pour vous bientôt!
Revenez nous visiter pour connaitre la suite des choses, mais en attendant, continuez de chanter!
---
Established in 1937, Chorale Saint-Jean of the University of Alberta's Campus Saint-Jean has become one of Edmonton's largest and most active choirs. With members coming from both the francophone community and the university student body, Chorale Saint-Jean was formed to celebrate and preserve the heritage and language of the francophone community in the west. Possessing incredible joie de vivre, this high-spirited ensemble charms its audiences with its passionate vocal interpretations and musical sincerity. The Choir commissions new works from Canadian composers, has toured both nationally and internationally and has recorded seven CDs. Laurier Fagnan has been the choir's artistic director since 1995.
COVID-19 – Our reality
In March 2020, voices have fallen silent throughout the world. COVID-19 invited itself, turning our lives upside down. Our Spring Concert, scheduled for April 5, had to be cancelled and all our Choir's activities temporarily suspended. But choral singing is not dead! We plan on returning as asson as possible in accordance with local health regulations. Who knows what form this come back will take? But as expressed in our motto, Our Choir, Your Voice, we will soon be singing for you once again.
Come and visit us to see what happens as we move forward. In the meantime, keep on singing!