Welcome to Chorale Saint-Jean
No front page content has been created yet.

---
Une nouvelle saison approche!
Joignez-vous à nous cette année! Les répétitions commencent le mardi 6 septembre. Consultez l'affiche ci-dessous et contactez Dr. Laurier Fagnan pour de plus amples informations.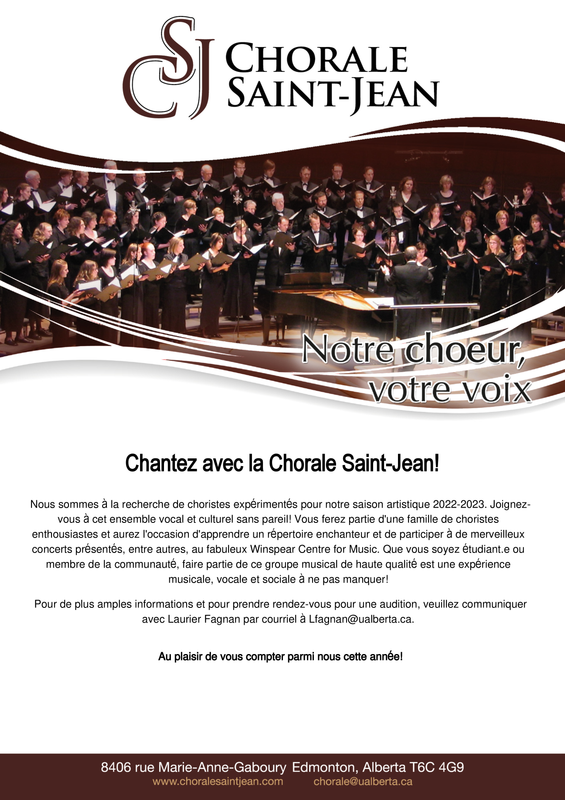 ---
---
Click here for English Version
Créée en 1937, la Chorale Saint-Jean du Campus Saint-Jean de l'Université de l'Alberta est l'une des chorales francophones les plus grandes et actives dans l'Ouest canadien. Elle est une force de ralliement caractérisée par son excellence musicale et par la nature transformative de son chant. Composée de membres de la communauté estudiantine et de la communauté francophone de la grande région d'Edmonton, elle est dédiée à l'apprentissage du chant, à la pédagogie musicale et au développement de la langue et de la culture francophones. Elle commande régulièrement de nouvelles œuvres musicales de compositeurs canadiens, entreprend des tournées nationales et internationales et a sept disques à son actif. L'ensemble est dirigé par Laurier Fagnan depuis 1995.
Established in 1937, Chorale Saint-Jean of the University of Alberta's Campus Saint-Jean has become one of Edmonton's largest and most active choirs. With members coming from both the francophone community and the university student body, Chorale Saint-Jean was formed to celebrate and preserve the heritage and language of the francophone community in the west. Possessing incredible joie de vivre, this high-spirited ensemble charms its audiences with its passionate vocal interpretations and musical sincerity. The Choir commissions new works from Canadian composers, has toured both nationally and internationally and has recorded seven CDs. Laurier Fagnan has been the choir's artistic director since 1995.
---
Le chant choral en confinement: La Chorale Saint-Jean chante Parlez-moi, décembre 2020.
---
COVID-19 – Notre réalité
En mars 2020, les voix se sont tues partout dans le monde. La COVID-19 s'est invitée chez nous et est venue bouleverser nos vies. Le concert de printemps prévu pour le 5 avril a dû être annulé et les activités interrompues. Mais le chant choral n'est pas mort! Nous avons persévéré et continué de chanter fièrement en français, et ce en respectant toutes les consignes sanitaires nécessaires selon les temps!
---
COVID-19 – Our reality
In March 2020, voices have fallen silent throughout the world. COVID-19 invited itself, turning our lives upside down. Our Spring Concert, scheduled for April 5, had to be cancelled and all our Choir's activities temporarily suspended. But choral singing is not dead! We persevered and continued to proudly join our francophone voices while also abiding by all necessary health restrictions!