Saison 2019-2020
Concert de printemps 2020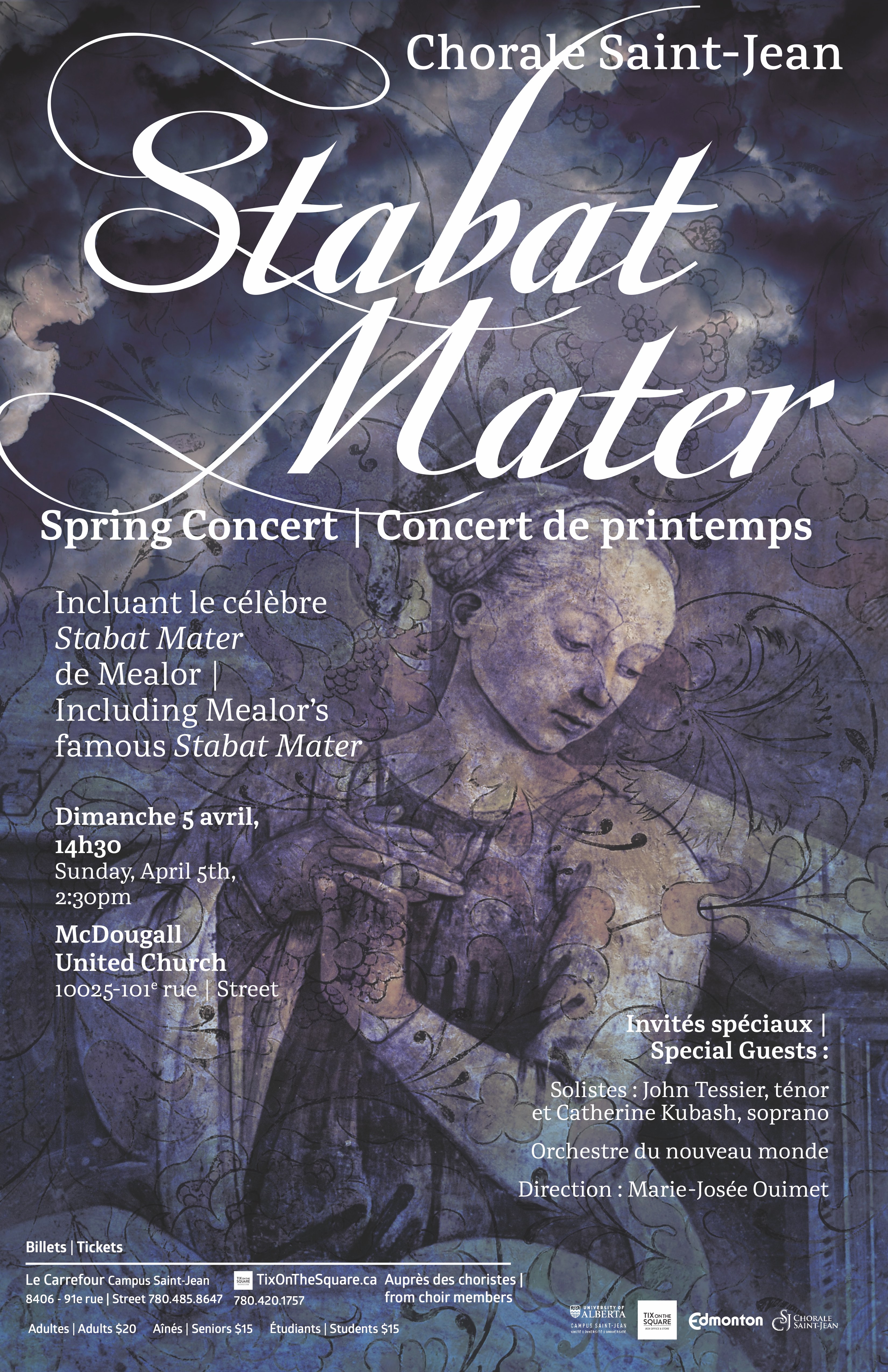 Stabat Mater
Joignez-vous à la Chorale Saint-Jean et leur ensemble orchestral professionnel pour un après-midi de chant choral alors qu'ils vous présenteront une diversité de chants et de musique pour chorales, y compris la musique évocatrice du Stabat Mater de Paul Mealor (compositeur qui s'est fait connaitre grâce à la musique qu'il a composée pour le mariage du duc et de la duchesse de Cambridge). Cette œuvre dramatique à plusieurs mouvements a acquis une reconnaissance internationale depuis sa composition il y a seulement quelques années, et avec raison. La prestation de la chorale intègrera différents styles, du magnifique Nocturnes du compositeur américain Daniel Elder en passant par des pièces impressionnistes de Debussy et Lili Boulanger, ainsi qu'un nouvel arrangement de Les trois cloches, chanson rendue célèbre par Édith Piaf. Il y en aura donc pour tous les goûts, y compris une distribution impressionnante de solistes – Catherine Kubash et le ténor de renommée mondiale, John Tessier. Un concert à ne pas manquer!
Le dimanche 5 avril 2020 à 14 h 30 à l'Église McDougall United, 10025 - 101e Rue. Les billets (20$ pour les adultes 15$  pour les étudiants et les ainés, sont disponibles au Carrefour (Campus Saint-Jean), Tix on the Square, auprès des membres ou à la porte.
_____________________________
Stabat Mater
Come celebrate an afternoon of beautiful choral music with Chorale Saint-Jean and their professional orchestral ensemble as they sing and play a variety of stunning choral works including the evocative Stabat Mater by Paul Mealor (made famous by the music he composed for the Duke and Duchess of Cambridge's wedding). This dramatic multi-movement piece has gained international acclaim since its composition only a few years ago, and for very good reason. The choir's performance will weave through a variety of styles including the gorgeous Nocturnes by American composer Daniel Elder to impressionistic works by Debussy and Lili Boulanger, as well as a new arrangement of Les trois cloches, made famous by Édith Piaf. So, something for everyone, including our star-studded cast of soloists, Catherine Kubash and internationally acclaimed tenor, John Tessier. A concert definitely not to be missed!
Sunday, April 5, 2020 at 2:30 p.m. at McDougall United Church, 10025 - 101 Street). Tickets are $20 (Adults) / $15 (Students and Seniors) and are available at Le Carrefour (Campus Saint-Jean), Tix on the Square, from choristers and at the door.
Concert de Noël 2019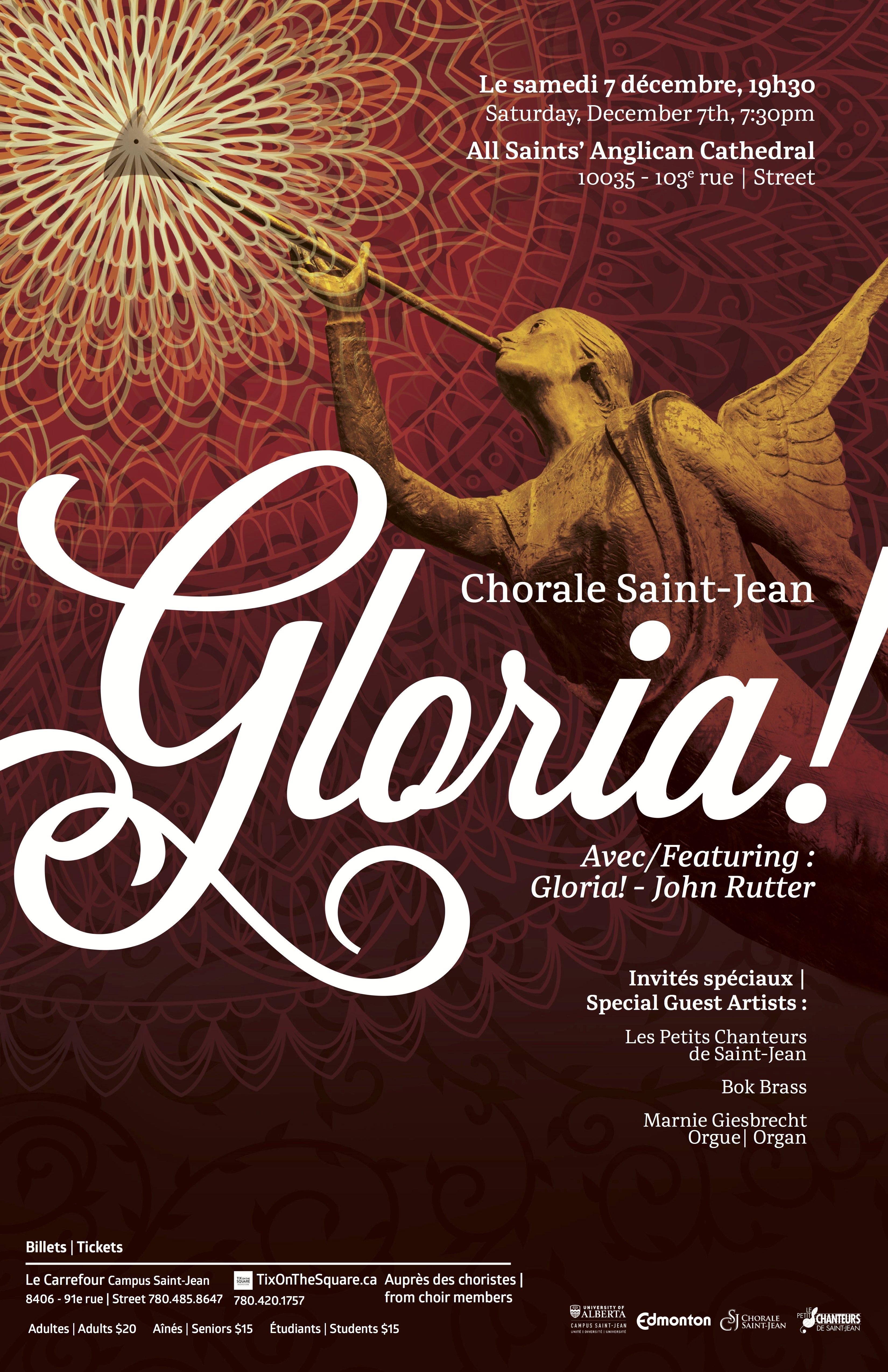 Gloria!
Joignez-vous à la Chorale Saint-Jean cette année pour leur célébration musicale des fêtes de Noël! Y a-t-il une meilleure façon de débuter la saison des fêtes que d'écouter des arrangements créatifs de vos chansons préférées de Noël, ainsi que des airs nouveaux qui sauront vous charmer? L'œuvre principale de cette soirée sera le magnifique Gloria de John Rutter, une merveille exubérante en trois mouvements qui sera accompagnée d'un ensemble de cuivres (Bok Brass), de percussions et d'un orgue à tuyaux (Marnie Giesbrecht). Les murs de la cathédrale résonneront de cette musique festive! Quelques nouvelles chansons s'ajouteront à d'autres classiques de Noël comme le Minuit chrétien et une sélection de cantiques espagnols. Les voix de la Chorale Saint-Jean seront agrémentées par celles de leur chœur d'enfants, Les Petits Chanteurs de Saint-Jean, qui partageront leur talent avec des pièces de leur propre répertoire et en combinaison avec la Chorale Saint-Jean. C'est un Noël en famille à ne pas manquer!
Le samedi 7 décembre à 19 h 30 à All Saints' Anglican Cathedral (10035 – 103e rue, Edmonton). Les billets (20 $ pour les adultes, 15$ pour les aînés et étudiants et 5 $ pour les moins de 12 ans) sont disponibles à Tix on the Square, au Carrefour au Campus Saint-Jean (8406 – 91e Rue), auprès des choristes et à la porte.  
_____________________________
Gloria!
Join Chorale Saint-Jean this year as they ring in the Christmas season! What better way to kick off your holiday spirit than with a concert of Christmas favourites, all with a special flavour, as well as some new classics for you to discover. This year's featured work will be the brilliant Gloria by John Rutter. This exuberant three-movement work will be accompanied by brass ensemble (Bok Brass), percussion and pipe organ (Marnie Giesbrecht) and is sure to lift the cathedral ceiling! A selection of newer pieces will complement other Christmas favourites such as O Holy Night and a selection of new Spanish carols. Their children's choir, Les Petits Chanteurs de Saint-Jean, will join the choir as they share their beautiful voices on their own repertoire and in combination with Chorale Saint-Jean. It's a family Christmas not to miss!
Saturday, December 7th, 7:30 pm at All Saints' Anglican Cathedral (10035 – 103 Street, Edmonton). Tickets are $20 for adults, $15 for seniors and students and $5 for children under 12) and are available at Tix on the Square, Le Carrefour Bookstore at Campus Saint-Jean (8406 – 91 Street), from choir members and at the door.