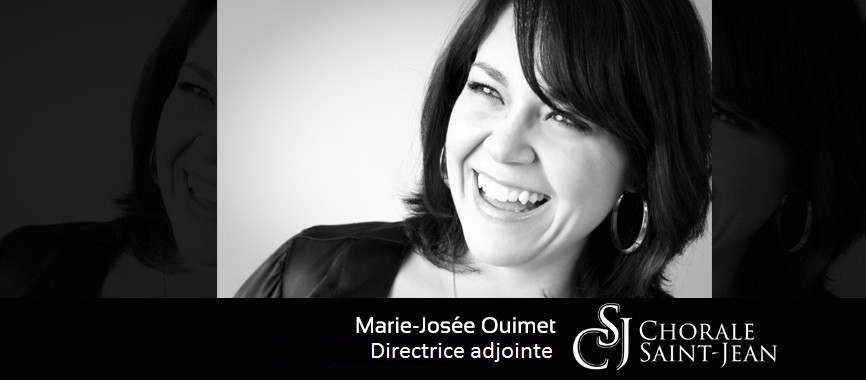 Marie-Josée Ouimet
Directrice adjointe / Assistant Director
Franco-Albertaine de naissance, Marie-Josée Ouimet est une auteure-compositrice-interprète avec une passion pour le chant choral. Elle détient un bachelier en musique de la University of Alberta et a tout récemment complété sa maîtrise en direction chorale à la même institution, sous la tutelle du Dr Len Ratzall et du Dr Laurier Fagnan. Elle dirige présentement la chorale Les Chantamis ainsi que la chorale Mélodie d'Amour, pour les gens d'âge d'or, et l'ensemble vocal de jeunes Clé. Elle a aussi eu l'occasion de donner de nombreux ateliers à d'autres chorales, entre autres pour le Yukon Summer Music Camp (2014) et pour le Elk Island Regional Honours Choirs (2015). Elle travaille en tant que coordonnatrice de projets pour le Centre de développement musical depuis l'automne 2004. Depuis des années, elle travaille aussi comme coach vocal pour de nombreuses activités musicales dans la communauté franco-albertaine telle que les Galalas, la Chicane albertaine et Polyfonik, anciennement le Gala albertain de la chanson.
Comme chanteuse solo, Marie-Josée a eu l'opportunité de voyager le Canada et a donné des spectacles en Colombie Britannique, en Alberta, au Manitoba, au Québec et au Yukon. En 2010, elle a reçu le Prix CHFA de la chanson albertaine pour sa contribution au développement de la musique Franco-Albertaine. Marie-Josée était la soliste principale pour Elle s'appelaient Marie, grande suite pour chœur, présenté par la chorale Saint-Jean au printemps 2007 ainsi que lors de leur tournée du Québec à l'occasion du 400e  en 2008. Elle a repris le rôle de Marie pour les Choralies  internationales à Edmonton en 2012 ainsi qu'à Vancouver et Gaspé en 2013. En 2008, Marie-Josée était la seule soliste invitée à l'évènement de chant choral Et si Québec m'était chantée. Ce spectacle regroupait plus de 1400 choristes de partout et a eu lieu devant une foule de 9000 spectateurs au Colisée Pepsi. Plus récemment, elle a partagé la scène du Windspear avec Tommy Banks et son orchestre pour un spectacle à l'honneur du départ de  Indira Samarasekera, présidente sortante de l'Université de l'Alberta (2015). Marie-Josée Ouimet a sorti trois albums, L'heure bleue (juin 2010), Parce que...  (novembre 2003), et Mon clair de lune (novembre 2000). Mon clair de lune et L'heure bleue se sont mérité une nomination au Western Canadian Music Awards dans la catégorie "Meilleure album francophone de l'année". Elle a aussi participé aux albums compilations Trait d'Union (2003) et Robert Soul (2008). Pendant l'année sabbatique de Laurier Fagnan en 2016-2017, elle a relevé le défi de travailler avec la Chorale Saint-Jean en tant que Directrice par intérim .
---
Franco-Albertan by birth, Marie-Josée Ouimet is a singer –songwriter with a passion for choral music. She has a Bachelor of music in Voice from the University of Alberta and recently completed her Master's in Chorale Conduction at the same institution, under the tutelage of Dr Len Ratzlaff and Dr. Laurier Fagnan.  She is currently conducting la chorale Les Chantamis choir of Edmonton as well as Mélodie d'Amour choir for seniors and the vocal ensemble Clé.  She has also had the opportunity to offer various choral workshops among them, for the Yukon Summer Music Camp (2014) as well as the Elk Island Regional Honour Choirs (2015). She has worked as project coordinator for the Centre de développement music al since fall of 2004.She has also worked as a vocal coach for various musical activities in the Franco-Albertan community, such as the Galala, La Chicane albertaine and the Gala Albertain de la Chanson now known as Polyfonik.
As a soloist Marie-Josée has had the opportunity to travel the country, singing a number of important solo performances in British Columbia, Alberta, Manitoba, Quebec and the Yukon. In 2010 she received the Prix CHFA de la chanson albertaine for her important contribution to the Franco-Albertan music scene. Marie-Josée was the principle soloist for the Elles s'appelaient Marie  chorale suite presented by Chorale Saint-Jean in April of 2007 as well as all over the province of Québec in the summer of 2008 to celebrate Quebec's 400th. She reprised the role of Marie for the 2012 Choralie International  in Edmonton as well as in Vancouver and Gaspé in 2013. In Jully of 2008, Marie-Josée was the only soloist invited to sing at the Et si Québec m'étais chantée chorale event. Featuring 1400 choristers from around the world and held at the Colisée Pepsi in front of over 9000 spectators.  She most recently has had the opportunity to share the stage with Tommy Banks and orchestra at the Windspear in honour of Indira Samarasekera's  departure from the University of Alberta. Marie-Josée Ouimet has released three albums in her solo career:  L'heure bleue (june 2010), Parce que...  (November 2003), and Mon clair de lune (November 2000). Both Mon clair de lune and  L'heure bleue  where nominated for a Western Canadian Music award in the Best Francophone Album category. Marie-Josée also recorded songs for the compilations  « Trait d'Union » and « Robert Soul ». While Laurier Fagnan was on sabbatical in 2016-2017, she was thrilled to have the new challenge of working with Chorale Saint-Jean as Acting Director.