Tournées
Tournée à Ottawa 2017/Tour to Ottawa 2017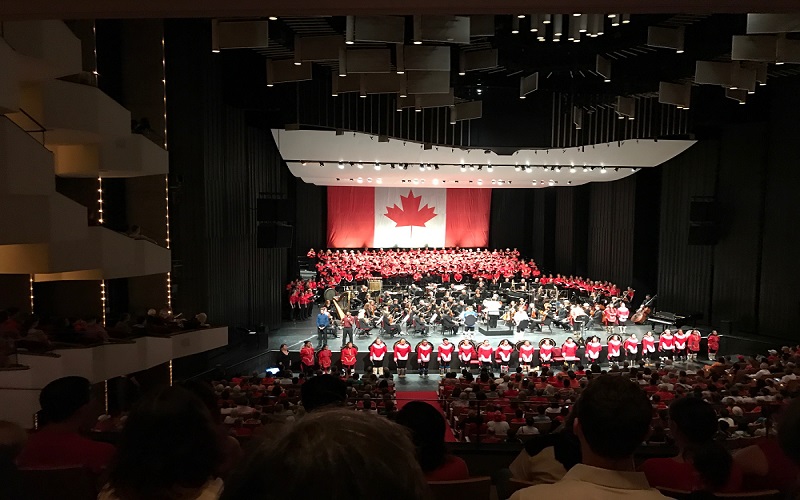 Du 28 juin au 3 juillet, la Chorale Saint-Jean a été invitée à participer au Festival de chant choral Unisong à Ottawa avec plus de 600 choristes de toutes les régions du Canada, pour célébrer le 150e anniversaire du pays.
---
From July 28 to July 3, Chorale Saint-Jean was invited to participate in the Unisong Choral Festival in Ottawa, with more than 600 choristers from across the country, in celebration of Canada's 150th anniversary.
Tournée en France 2011/Tour to France 2011

Du 4 au 19 juillet, la chorale fait une tournée en France et se produit en concert à Lyon, Paris et plusieurs autres villes et villages. Le clou de cette tournée aura sans aucun doute été sa prestation à la grand-messe célébrée à Notre-Dame de Paris en présence de plus de 3 000 personnes venues de tous les points du globe le dimanche 11 juillet.
---
From July 4th to 19th, the choir toured France and gave concerts in Lyon, Paris and several other cities and towns. The highlight of this tour was without any doubt providing the musical leadership at the Sunday High Mass at Notre-Dame Cathedral on July 11th, celebrated in front of more than 3000 people from all over the world.
Tournée au Québec 2008/Tour to Québec 2008

Du 8 au 19 juillet, la Chorale Saint-Jean fait une tournée au Québec dans six villes québécoises. Elle participe au concert du 400e anniversaire de la ville de Québec avec 72 autres chorales. La Chorale Saint-Jean et sept autres chorales sont choisies pour donner un concert solo. Laurier Fagnan est un des six directeurs et le seul de l'extérieur du Québec.
Cliquez ici pour visionner la galerie de photos
---
From July 8th to 19th, Chorale Saint-Jean goes on tour to six cities in Québec. The choir joins 72 other choirs and participates in the 400th anniversary of the City of Québec. Chorale Saint-Jean and seven other choirs are chosen for solo presentations. Laurier Fagnan is one of six directors, and the only one from outside Québec.
Tournée au Québec 2005/Tour to Québec 2005

Cinquante-six ans après sa première tournée au Québec, la Chorale Saint-Jean entreprend une tournée de dix jours dans la Belle province, où elle présente 10 concerts à plus de 10 000 spectateurs. Elle participe aussi à deux festivals internationaux.
Cliquez ici pour visionner la galerie de photos.
---
Fifty-six years after its first tour of Québec, CSJ embarks on a 10-day tour of the Belle Province where it presents ten concerts to more than 10,000 spectators. It also participates in two international festivals.
Click here to see the photo gallery