Welcome to Chorale Saint-Jean
No front page content has been created yet.

---
Concert de Noël 2023
Le dimanche 10 décembre 2023, la Chorale Saint-Jean vous présente son concert "Lueur: Suivons l'étoile de Noël", avec invité spécial l'ensemble vocal Clé. De la superbe musique chorale vous attend, combinant une variété unique d'œuvres de Whitacre, Ešenvalds, LaBarr, Duruflé, Villette et Sirett. Un programme de pièces traditionnelles et plus récentes ainsi que des arrangements de chants de la saison feront de ce concert de Noël un à ne pas manquer! Suivre le lien ci-dessous pour acheter des billets:
https://www.edmontonarts.ca/.../chorale-saint-jean...
On Sunday, December 10, 2023, Chorale Saint-Jean will present its concert "Glow: Follow the Christmas Star", with special guest l'ensemble vocal Clé. A unique variety of works by Whitacre, Ešenvalds, LaBarr, Duruflé, Villette and Sirett will highlight the program. Traditional and more recent pieces as well as arrangements of songs of the season will make this concert one not to be missed.
Concert de printemps 2023 - Soirée bénéfice 85e anniversaire
Notre concert de printemps est planifié pour la soirée du samedi 15 avril 2023. Cette occasion spéciale, célébrant le 85ième anniversaire de la Chorale, sera à ne pas manquer. Achetez vos billets dès aujourd'hui: D'hier à demain: TIX on the Square
Our springtime concert is scheduled for the evening of Saturday, April 15th 2023. This special occasion, celebrating the Chorale's 85th anniversary, is one not to be missed. Purchase your tickets today: D'hier à demain: TIX on the Square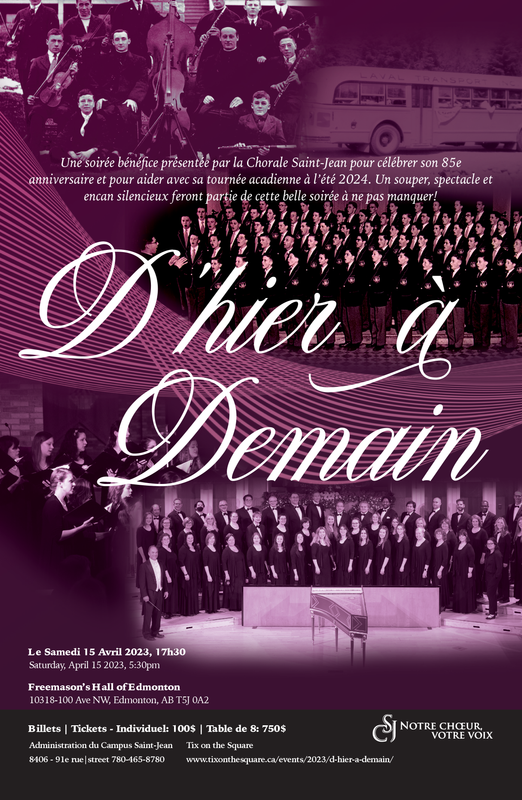 Concert de Noël 2022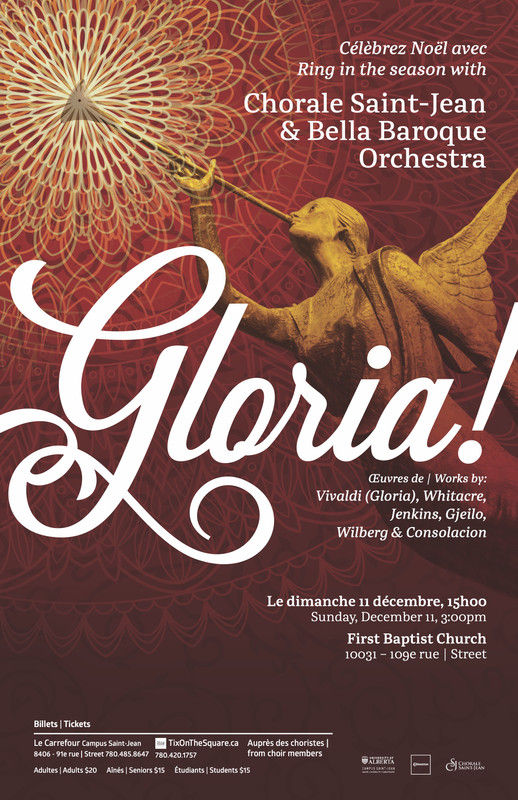 ~ Gloria! ~
Joignez-vous à la Chorale Saint-Jean pour célébrer la saison des fêtes avec de la superbe musique chorale, combinant une variété toute spéciale de chants favoris de Noël avec de nouveaux classiques à découvrir. L'œuvre maîtresse du concert sera le magnifique Gloria d'Antonio Vivaldi. L'une des œuvres les plus appréciées du canon choral, ce chef-d'œuvre baroque ravira par ses mouvements dansants exubérants, juxtaposés à des solos et des chœurs émouvants et expressifs, le tout accompagné sur des instruments d'époque par la Bella Baroque Orchestra. Une sélection de pièces plus récentes et d'arrangements de chants de Noël compléteront le programme. C'est un concert de Noël à ne pas manquer !
Le dimanche 11 décembre, à 15 h, à la First Baptist Church (10031 – 109e rue, Edmonton). Les billets coûtent 20 $ pour les adultes, 15 $ pour les aînés et les étudiants et sont disponibles chez Tix on the Square, à la librairie Le Carrefour du Campus Saint-Jean (8406 - 91 Street), auprès des membres de la chorale et à la porte.  
~ Gloria! ~
Join Chorale Saint-Jean as they ring in the Christmas season with great choral music! What better way to kick off your holiday season than with a concert of Christmas favourites, all with a special flavour, as well as some new classics for you to discover. This year's featured work will be the brilliant Gloria by Antonio Vivaldi. One of the most beloved works of the choral canon, this Baroque masterpiece will delight with exuberant dance-like movements juxtaposed with emotive and expressive solos and choruses, all accompanied on period instruments by the Bella Baroque Orchestra. A selection of newer pieces and arrangements of carols and other classics will round out the program. It's a Christmas concert you won't want to miss!
Sunday, December 11th, 3:00 pm at First Baptist Church (10031 – 109 Street, Edmonton). Tickets are $20 for adults, $15 for seniors and students and are available at Tix on the Square, Le Carrefour Bookstore at Campus Saint-Jean (8406 – 91 Street), from choir members and at the door.
---
---
Click here for English Version
Créée en 1937, la Chorale Saint-Jean du Campus Saint-Jean de l'Université de l'Alberta est l'une des chorales francophones les plus grandes et actives dans l'Ouest canadien. Elle est une force de ralliement caractérisée par son excellence musicale et par la nature transformative de son chant. Composée de membres de la communauté estudiantine et de la communauté francophone de la grande région d'Edmonton, elle est dédiée à l'apprentissage du chant, à la pédagogie musicale et au développement de la langue et de la culture francophones. Elle commande régulièrement de nouvelles œuvres musicales de compositeurs canadiens, entreprend des tournées nationales et internationales et a sept disques à son actif. L'ensemble est dirigé par Laurier Fagnan depuis 1995.
Established in 1937, Chorale Saint-Jean of the University of Alberta's Campus Saint-Jean has become one of Edmonton's largest and most active choirs. With members coming from both the francophone community and the university student body, Chorale Saint-Jean was formed to celebrate and preserve the heritage and language of the francophone community in the west. Possessing incredible joie de vivre, this high-spirited ensemble charms its audiences with its passionate vocal interpretations and musical sincerity. The Choir commissions new works from Canadian composers, has toured both nationally and internationally and has recorded seven CDs. Laurier Fagnan has been the choir's artistic director since 1995.
---
Le chant choral en confinement: La Chorale Saint-Jean chante Parlez-moi, décembre 2020.
---
COVID-19 – Notre réalité
En mars 2020, les voix se sont tues partout dans le monde. La COVID-19 s'est invitée chez nous et est venue bouleverser nos vies. Le concert de printemps prévu pour le 5 avril a dû être annulé et les activités interrompues. Mais le chant choral n'est pas mort! Nous avons persévéré et continué de chanter fièrement en français, et ce en respectant toutes les consignes sanitaires nécessaires selon les temps!
---
COVID-19 – Our reality
In March 2020, voices have fallen silent throughout the world. COVID-19 invited itself, turning our lives upside down. Our Spring Concert, scheduled for April 5, had to be cancelled and all our Choir's activities temporarily suspended. But choral singing is not dead! We persevered and continued to proudly join our francophone voices while also abiding by all necessary health restrictions!